Arriving in Oporto was a quick and easy jump on two planes and one Uber. Of course I knew many wines from Douro, especially classic ones, but while on a plane a question was stuck in my mind. "Where is this traditional industry heading and what is the motor behind its development? Is it tradition or innovation or perhaps both? Well my first surprise was just about to happen while I took the first step from my car at the Yeatman hotel.
Walking into a well designed 5 star Heritage hotel gave me not only a sense of luxury, but also a sense of connection with tradition. All rooms in the hotel are sponsored by local wine producers, and that right there gave me a sense of unity and cooperation within the industry. Well trained and helpful staff ready to share information about Oporto and its legacy clearly had a good understanding of needs of their customers and was were well trained to give a feel of the place and create an Oporto experience at the highest level.
After I dropped of my bags, immediately I went for a walk to get a sense of the place walking straight from the hotel to Taylors loges. I walked by the peacocks and roosters, which were sort of an odd addition to the whole ambience but definitely something that makes one, remember the place, good or bad it depends on visitor's point of view. I was not planning to visit Taylor as it was on our agenda later on. I followed narrow and steep cobblestone street walking by what I later learned is going to be World of Wine. Large loges are being prepared for what could be in the future one of the most innovative wine places in the world. Will it be?
The answer will come in 25 months. The plans are impressive indeed – history of wine with focus on Portugal, cork museum, educational centre, wine cellar and tasting room. Following the path I came down to Douro river passing by tourists speaking many different languages including my mother tongue – Polish, making me think of development of the tourism industry and its importance of development of Oporto as well as wine industry alone. Nearly each of those tourists carried a bag branded with a particular port house.
My immediate question was how do they pick the place they go to. Is it by accident? As all the lodges are right by each other or did they have a specific place in mind before they came to Oporto, and if so did they learn about it from their local market or was it recommended in Oporto. I walked by Sandman's outside bar – with loud hip music and cocktails being drunk by a younger generation and another question presented itself: Is younger generation drinking port?
The answer was to be found at the dinner. We were received at Graham's Vinum restaurant by Henry Shotton and Paul Symington with a glass of white port cocktail mixed with tonic and lemon. Refreshing drink that can rival gin and tonic any time and in my opinion a great way to introduce port industry to younger generation.
Paul Symington when greeting us discussed importance of family business and gave us also the pros and cons of what it means. We were served several appetizers on rather classic international side in the library room giving us a sense of tradition and history carried by several generations. In the glass however and on the plate (appetizers) we experience an opposite quite modern approach.
When walking to Vinum restaurant we passed Graham's outstanding wine shop and here again few things that posed a question. Large volume 225 liter bottles were standing out and modern packaging was eye catching. As we have later learned at the dinner when seating at the table with Henry and Carlos Agrellos from Quinta do Noval – modern packaging is associated with the premiumisation of the port industry as the growth in that segment is larger than in the commodity sector.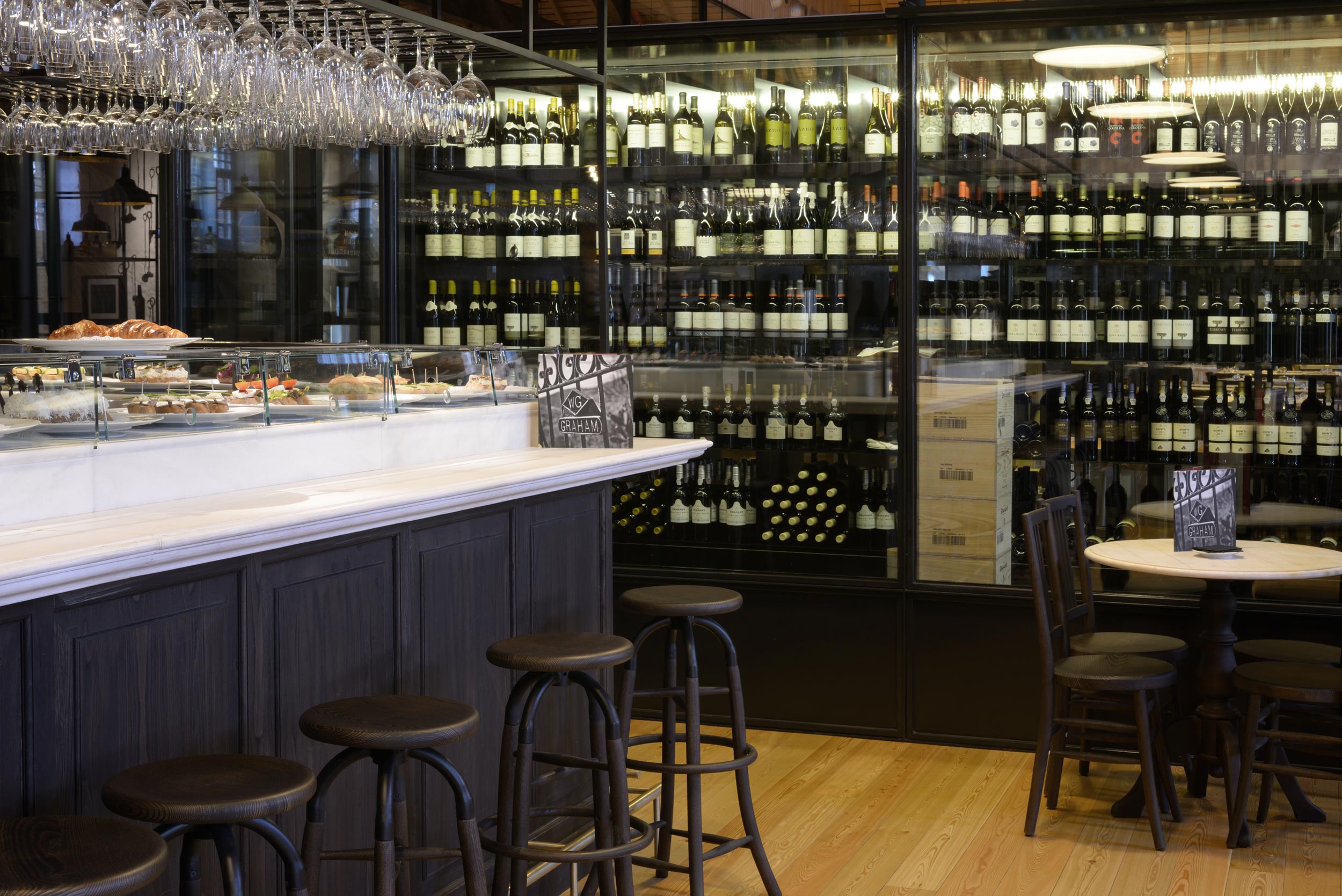 Innovative ways to serve port in the restaurants from large volume bottles make fine dining experience even more memorable said Henry. We were soon about to learn that. During a course of dinner we were served dry wines of Douro Valley. Discussing traditional Portuguese grape varieties in an interesting perspective of comparing aromatic qualities of wines to international grape varieties; Particularly muscat vs sauvignon blanc. As one of the hurdles on international sales of Douro Valley wines or Portuguese wines all together is the difficult pronunciation and lack of international recognition of many indigenous grape varieties. Discussing them in perspective of well-known wines gives customer easier understanding of style and allows higher sales.
Finally there was a time for dessert service and bottles of 1977 Tappit Hen (225 l) appeared at the tables. The majestic, large volume bottles combined with the magic of vintage port left as with an amazing impression. Tasting 41 old wine that is still fruity and carries juicy acidity along with delightful tertiary aromas of caramel and toffee lingering on the plate was an outstanding experience to remember and one to carry around and share for the rest of one's life.
Was it the amazing wine or the magic of the whole experience or both? For me it was the wine, but I can't finish this introduction to the trip and not raise the topic that the experience was an extremely important part of the evening.
The most important part of it all and at the same time another question that comes to my mind is: where else in the world could you find an aged wine of such tremendous quality at such a reasonable price point.? That is reason enough to visit Douro Valley at your earliest convenience!
PS. Let me give you one last reason why you should visit Douro Valley. 2016 has just been declared a vintage year by some of the most important producers as Graham's and Quinta do Noval. I had already a chance to taste the Graham's 2016 with its amazingly silky tannins, concentration and ripeness. This might surprise but it is ready to drink and delicious today. Of course it would be a shame to open it now, but this ready to drink and age style shows that this is yet another change in Douro Valley.